SPEAKERS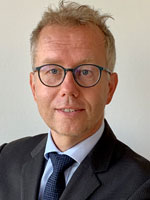 Martin Bijsterbosch
Adviser - Country Coordinator
Directorate General Economics European Central Bank

Martin Bijsterbosch became country coordinator (mission chief) for Greece in October 2020. Before taking up this role, he was Senior Team Lead working on financial stability and macroprudential policy for the banking sector in euro area countries. Martin joined the ECB in 2001 and worked in various positions in the Directorate General Economics, the ECB Representation in Washington DC and the Directorate General Macroprudential Policy & Financial Stability. He has extensive experience in country surveillance and crisis-related mission work, including in Cyprus, Greece, Latvia and Portugal. He also worked at the Bank of Canada and De Nederlandsche Bank, where he started his career. Martin has published on the role of credit in economic developments, the macroeconomic impact of uncertainty and cross-border capital flows. He holds a Master's degree in Economics and studied at the universities of Groningen and Siena.