SPEAKERS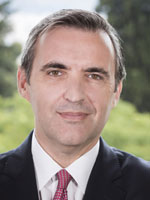 Konstantinos Vassiliou
Deputy CEO, Head of Group Corporate & Investment Banking Executive Member of the BoD
Eurobank S.A.

Konstantinos Vassiliou is Deputy CEO and an Executive Member of the Board of Directors of Eurobank, heading Group Corporate and Investment Banking (GCIB). He is responsible for the Corporate Banking Units, as well as for the specialized units of Shipping, Structured Finance, Global Transaction Banking, Investment Banking, Loan Syndications and Global Markets on a group basis. Mr. Vassiliou is also Chairman of the Board of Directors of Eurobank Factors, member of the Boards of Eurobank Equities and Athens Exchange Group and member of the General Council of the Hellenic Federation of Enterprises.
Before joining Eurobank in late 2005, Mr. Vassiliou was Country Manager for Greece, Cyprus and the Balkans region at Bank of Tokyo-Mitsubishi, based in London. Having more than 20 years of experience in Corporate & Investment Banking, he has been actively involved in most M&A transactions and major Debt Financings completed in Greece and Southeastern Europe and has led some of the largest and most visible Debt Restructurings in Greece. Mr. Vassiliou received an MBA from the Boston University Graduate School of Management in 1998 and a B.S. in Business Administration from the Economic University of Athens in 1994.