Speakers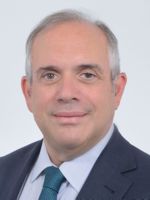 Dimitrios Fafalios
President / Director
Fafalios Shipping S.A.


Dimitrios Fafalios serves as President/Director of Fafalios Shipping S.A. since 2008.
From 1984 to 2008, Mr. Fafalios has held various positions in Fafalios Ltd. London, including Technical manager, Technical Director with responsibilities for vessel Maintenance, Newbuildings, S&P, and Technical support for Chartering, Insurance, Post-Fixture and other departments. He has worked closely with many of the major classification societies and international shipping organisations for rule development and implementation.
Mr. Fafalios has been elected Chairman of Intercargo since January 2019 having been Chairman of its Technical Committee since 2009 and one of the first members of the Technical Committee since 1999.
Mr. Fafalios holds senior positions on ABS, DNV-GL, HCS, ICS, INTERCARGO, LR, NK and UGS committees. Mr. Fafalios has attended IMO on behalf of the Hellenic Republic.
Mr. Fafalios received his B.S.c in Naval Architecture and Ship Building Newcastle upon Tyne University in 1980 and M.S.c in Ocean Systems Management from MIT in 1982.