Speakers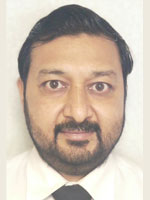 Rajeev Kaushik
Synergy Marine Pte Ltd


Capt. Rajeev Kaushik started his shipping career as a cadet with Univan Ship Management in 1995 and sailed with them till the rank of Chief officer on Tankers. In 2004, he joined another very large management company where he got his first command on a Chemical Tanker in 2005.

In 2015, Capt. Kaushik joined Synergy Marine and have been sailing with them on their fleet of Oil and Chemical Tankers. Capt. Kaushik has been sailing as a Master for over 16 years now on Oil and Chemical tankers including VLCCs.

Education qualification: BSc (Nautical Science) from T.S. Chanakya in 1995 / Master Mariner.