Speakers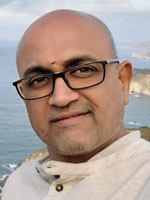 Vishnu Swaminathan
Social Responsibility Advisor
Synergy Group


Vishnu serves as the Social Responsibility Advisor for the Synergy group. He has been involved in the social responsibility team design since 2016.
Vishnu works full time as a Leadership Group Member (VP) at Ashoka. He leads Global Partnerships and Technology initiatives for Changemaking. He is based out of Washington DC and prior to that, he led Ashoka in Asia. He has been a social entrepreneur since 2008.
He has created two independent organizations out of work at Ashoka. Indian Housing Federation focused on policy and hybrid value chains of affordable housing and the Nourishing Schools Foundation focused on empowering school students to take charge of their own nutrition which has reached over 40,000 children in India.
Vishnu has been a lifelong entrepreneur. Between 1997-2008 he created two for-profit companies based in Singapore on internet payments and digital assistants.