Speakers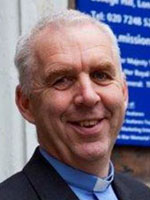 Andrew Wright
Secretary General
Mission to Seafarers


The Revd Canon Andrew Wright was educated in Oxford, at The University of St Andrews, where he studied Theology, and in Cambridge where he prepared for ordination in the Church of England.
He first served as curate in Liverpool's challenging estates of Norris Green and Croxteth, moved to a parish in Carlisle for his second post and then became Vicar of St James with St Thomas, Wigan (the parish with the pier!), also working as Chaplain to Wigan Hospice. In 1991 he returned to Oxford as Chaplain, Head of Religious Studies and Housemaster at St Edward's School. In 2007 he was appointed as Mission Chaplain and Director of Operations at the Royal National Mission to Deep Sea Fishermen.
In February 2013 he was appointed Secretary General of The Mission to Seafarers, with the responsibility of leading this global charity through a period of extensive change. The Mission to Seafarers provides welfare support to seafarers in around 200 ports in 50 countries. It has also launched a range of new projects, including its Seafarer Family Support Networks and the Seafarer Happiness Index. Alongside his responsibilities at The Mission, he is also currently Chairman of the International Christian Maritime Association, the umbrella body bringing together most of the organisations engaged in front-line maritime welfare.
Beyond his work he has a range of interests, including sailing, long distance trekking, cycling and keeping his 30-year-old VW Campervan on the road! He has been heavily involved in drama, both as actor and director, and his writing has included published travel articles. He also enjoys politics, poetry and history. He is married and has a son, three daughters and four grandchildren.