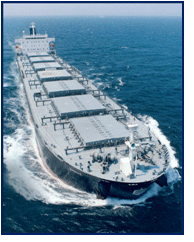 Now in its 2nd year, Capital Link's "Invest in International Shipping" Forum takes place on Tuesday, October 20, 2009 at the London Stock Exchange, 10 Paternoster Square, London.
The Forum's objective is to provide investors with a comprehensive review and outlook of the various shipping markets post international economic crisis and raise the profile of shipping among the UK and wider-European investment communities. The Forum will cover the following sectors: dry bulk, tanker, container, and offshore.
International shipping plays a vital role in global trade given that 2/3 of the world's goods are transported by sea. The shipping industry provides a cost effective and practical means of transportation internationally of large volumes of cargoes. Since severe phases of the international financial crisis hit the world economy, the global shipping industry is currently going through a transitional phase. After a severe physical shortage of vessels the effect is characterized by massive fleet renewal, weak demand as a result of reduced international trade and scarcity of bank debt and fresh public equity. Investors find it important to evaluate the current and future financial status of international shipping markets and also understand how shipping companies can continue to finance their vessels and projects for the long run.
The Forum's target audience includes institutional investors and analysts; financial media; financial advisors, financial planners and stock brokers. The event will be open to the buy and sell side community.
For more information or on sponsorship opportunities, please contact Vincent Tricoli at vtricoli@capitallink.com or call +1 212 661-7566.