ACM Shipping
ACM is an integrated oil transportation broker, facilitating seaborne trade in crude oil and petroleum products worldwide.
Present CEO Johnny Plumbe co-founded the Group in 1982, since then ACM has grown to become one of the leading international tanker brokers that provides a range of services including spot/period chartering, derivatives brokerage, sale and purchase, new buildings and demolition. Over the past 27 years, the Group has matured into a successful tanker broking company and has created a strong record of staff retention, thereby assisting in building and maintaining strong long-term relationships, at all levels within client organisations. ACM's services continue to evolve to meet the needs of those buying, selling and transporting oil.
ACM was admitted to AIM on 6 December 2006. It has expanded its international operations and now employs over 90 staff with offices based in London, Singapore, India and China. The Group's strength in the tanker market is driven by its carefully assembled and well respected team of both young and more experienced brokers working closely in a well-organised team covering all tanker markets. In addition to the spot market, the projects team and sale and purchase brokers have the combined wealth of experience and can draw on extensive proprietary statistical resources to run in-depth analysis and advise clients at the highest level in the tanker industry.
ACM's strategy is to expand its brokerage services geographically and across shipping sectors to become a fully integrated shipping service provider, whilst maintaining its position as one of the most profitable firms in the tanker broker business. This includes building the right team of brokers to penetrate regional markets to grow its business with existing and new clients so as to continue to gain market share.
More details of the Group's main services can be found in the Group's main site www.acmshipping.co.uk but the diagram below sets out the key offering of services.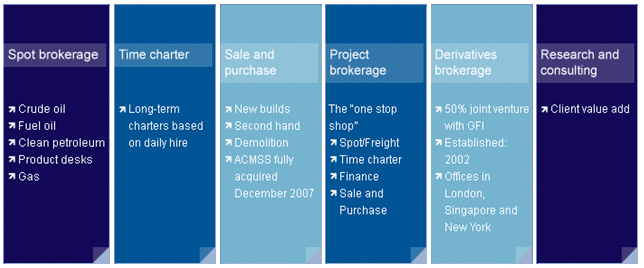 Operations - Demurrage and back office functions