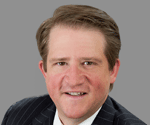 Robert Burns
Chair of Investment and Restructuring Practice
Bracewell & Giuliani
Robert Burns is chair of the Bracewell & Giuliani Maritime Investment and Restructuring Practice. Bob has extensive maritime law experience starting with his position as general counsel of American Commercial Lines, where he advised the company on legal issues such as vessel acquisitions, charters, shipbuilding contracts, ship finance matters and regulatory compliance.

He has also executed dozens of shipping transactions in the U.S., South America, Europe and Asia. Bob has served as counsel in several maritime restructuring matters, including company counsel to Marco Polo Seatrade, TMT Shipping, Trico Marine Services, and Omega Navigation Enterprises. On the investor side, Bob has served as counsel to bondholders in the OSG bankruptcy; an Irish investment fund in the General Maritime bankruptcy; and German and Norwegian investors in the Sanko insolvency proceeding. Bob also represents corporate, private equity and hedge fund clients in the evaluation and execution of investment strategies in the shipping sector.