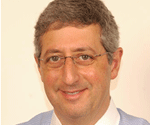 Evan Cohen
Managing Director, Dry Bulk Group
DVB Bank SE
Mr. Cohen is responsible for the Global Drybulk shipping business at DVB and has recently been appointed to the board of DVB Capital Markets. He has been at DVB since 2001. He previously led DVB's European shipping team. Prior to DVB, Evan was a finance director with Aconarit/V. Ships and the Intermaritime Group.

Evan received his MBA from Columbia University and Bachelor's Degree from The Wharton School.