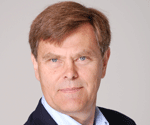 Jim Furnivall
Managing Partner
Alterna Capital Partners
Jim is a Managing Partner at Alterna Capital Partners, a private equity firm with more than $1 billion under management, that is focused on investing in Core Capital Assets. The firm's investments span the transportation, power/energy and industrial sectors. Alterna currently has shipping investments in the tanker, dry bulk and Jones Act sectors. Jim has spent more than 25 years in investment banking and private equity. Prior to becoming part of the founding team at Alterna, he spent 11 years at Canaan Partners a venture capital firm with more than $2 billion under management.

As a General Partner at Canaan, he was responsible for leading the firm's technology investment activities on the East Coast. While at Canaan he originated, structured, closed, managed and achieved liquidity on 14 investments. In addition, he played an integral part in managing the firm and its fund raising activities. He holds a Bachelor of Science in Chemical Engineering from Princeton University and an M.B.A. with Distinction from The Wharton School at the University of Pennsylvania.