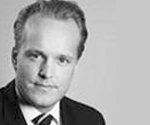 Herman Hildan
Equity Research
RS Platou Markets AS
Herman Hildan, Partner and Research analyst, is responsible for views on the Shipping market and communicating these views to the firms investors. He covers 35 Companies within the seven segments; Tanker, Dry bulk, Container, LNG, Car Carrier, LPG and Chemical tanker.

Herman joined RS Platou Markets AS in 2009 and was named Partner in 2011. Prior to joining the firm, Herman worked at Skandinaviska Enskilda Banken (SEB AB). Herman holds a M. A (Hons) in Financial Economics from the University of St. Andrews.

The RS Platou Markets Group is a fully licensed investment bank headquartered in Oslo, with a wholly owned subsidiary in New York holding a broker-dealer and best-effort underwriting license in the United States. As the investment banking arm of the world's leading ship- and offshore broker RS Platou ASA, the RS Platou Markets Group are very dedicated and active within the Shipping and Offshore sectors.