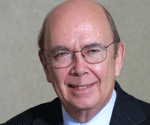 Wilbur Ross
Chief Executive Officer
WL Ross & Co. LLC
Wilbur Ross, CEO of WL Ross & Co. LLC, may be one of the best known private equity investors in the US. He created and chairs International Textile Group and International Auto Components Group, and he's a Director of ArcelorMittal. He's the Chairman of Diamond S Shipping and previously chaired International Coal Group. He's a member of the boards of Assured Guaranty, Bank of Ireland, BankUnited, EXCO, Ocwen, Sun Bancorp and Talmer Bancorp. Mr. Ross was Executive Managing Director of Rothschild Inc. for 24 years before acquiring that firm's private equity partnerships in 2000. He's a member of the boards of Yale University School of Management, The Dean's Advisory Board of Harvard Business School, Partnership for New York City and the Palm Beach Civic Association. He's Chairman of the Japan Society and the Brookings Institution Economics Studies Council and a trustee of the Town of Palm Beach Retirement System and the Magritte Museum.

President Kim Dae Jung awarded him a medal for his assistance in Korea's financial crisis, President Clinton appointed him to the board of the US-Russia Investment Fund and he served as Privatization Advisor to New York City Mayor Rudy Giuliani. Mr. Ross formerly served as Chairman of the Smithsonian Institution National Board. He's a graduate of Yale University and Harvard Business School. He's the only person to be elected to both the Private Equity Hall of Fame and the Turnaround Management Association Hall of Fame. Bloomberg BusinessWeek designated him one of the 50 most influential people in global finance.