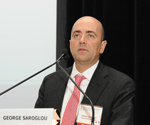 George V. Saroglou
Chief Operating Officer
Tsakos Energy Navigation, Ltd.
Mr. Saroglou has been Chief Operating Officer of the Tsakos Energy Navigation Limited since 1996. Mr. Saroglou is a shareholder of Pansystems S.A., a leading Greek information technology systems integrator, where he also worked from 1987 until 1994. From 1995 to 1996 he was employed in the Trading Department of the Tsakos Group.

He graduated from McGill University in Canada in 1987 with a Bachelors Degree in Science (Mathematics).