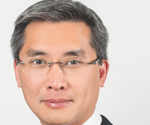 Bao D. Truong
Senior Managing Director
Centerbridge Partners, L.P.
Bao D. Truong, Senior Managing Director. Mr. Truong joined Centerbridge in 2010. Prior to joining Centerbridge, Mr. Truong was a Managing Director and Partner in the credit business of Fortress Investment Group LLC. While at Fortress from 2004 to 2010, Mr. Truong was a senior member of the corporate securities group which was engaged principally in public market investments across the corporate capital structure with a focus on distressed and special situations. Prior to Fortress, Mr. Truong was a member of the distressed/high-yield research and trading business of Lehman Brothers Inc. Mr. Truong graduated magna cum laude from the University of Pennsylvania, where he was a Benjamin Franklin Scholar, with degrees in Finance (Wharton) and Computer Science & Engineering. He received his M.B.A. from Harvard Business School.