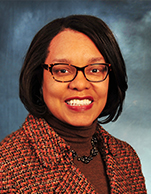 Robin Bramwell-Stewart, B.A., J.D.
Manager, Policy & Strategic Planning
Port Authority of New York & New Jersey
Ms. Bramwell-Stewart serves as the Manager of Policy and Strategic Planning for the Port Department within the Port Authority of New York and New Jersey. In this role, she oversees all business and strategic planning for the largest port on the US East Coast, and the third largest in the nation. Ms. Bramwell-Stewart leads the business planning efforts and oversees important policy development and initiatives for the maritime business.
Strategy has been an integral part of Ms. Bramwell-Stewart's portfolio since she arrived at the Port Authority in 2008. Prior to joining the Port Department in March of 2011, Ms. Bramwell-Stewart was a Senior Program Manager in the Office of Strategic Initiatives where she developed broad-based regional transportation initiatives in line with the Authority's mission. Ms. Bramwell-Stewart worked with critical stakeholders to foster seamless connectivity for passengers and freight, increase transportation capacity, promote environmental sustainability, and maximize the Port Authority's financing power to support the region's prime movers, job generators and wealth creators.
Before joining the Port Authority Ms. Bramwell-Stewart was an Associate and Vice President at JP Morgan Securities where she worked as a Municipal Finance banker. A graduate of Howard University and Brooklyn Law School, Ms. Bramwell-Stewart began her career in the New York City Office of Labor Relations, and then became a Labor and Policy Analyst in the office of the Counsel to the Governor of New York. After working in the Executive Chamber, she became Assistant Director and Chief Negotiator in the Governor's Office of Employee Relations.