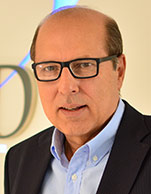 George Daskalakis
Director, Sales & Purchase Broker
Allied Shipbroking Inc.
George Daskalakis is on the board of directors of Allied Shipbroking Inc. since 1997. He started his carrier as a shipbroker back in 1981.
All these years he has been serving the Greek and International shipping community as a sale and purchase broker, having established a very strong clientele base including prominent private and public listed shipowners.
The core of his activities are in the dry bulk carrier and tanker markets, having concluded numerous transactions in the newbuilding, secondhand and demolition markets, including enbloc deals of entire fleets.
In 2004 Allied Shipbroking Inc. received its first award from Lloyd's List and Mr. Daskalakis was appointed by the board to represent the company and receive the award on their behalf, while 10 years later in 2014 Allied Shipbroking Inc. received their second shipbroker of the year award by Lloyd's List.