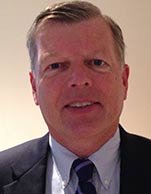 Charles Davies
VP Commercial Services
World Fuel Services
Charles Davies joined Trans-Tec Services in New York a bunker trading and brokerage firm in 1985 and has held many positions and responsibilities during that time. The company was purchased by World Fuel Services in 1995.
Charles has been involved with Risk Management since 1992 and currently managing the Connecticut office while leading the Americas Risk management business development along with serving as a Senior manager for the companies' Marine Division. Graduate of the University of Wisconsin.
Member of the Connecticut Maritime Association.