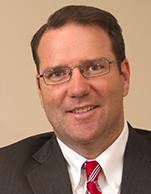 Brian B.A. McAllister
President
McAllister Towing
Buckley McAllister is President of McAllister Towing. Buckley was the Vice President and General Counsel of McAllister Towing from 1998 to 2012. He received a J.D. from the University of California, Hastings College of the Law and a bachelor degree from Hamilton College.
Founded in 1864, McAllister Towing is one of the oldest and largest maritime transportation service companies in the United States. The company owns and operates over 70 tugboats, a dozen barges, and three ferries. The company has over a dozen offices along the East Coast and Caribbean, from Portland, Maine to San Juan, Puerto Rico. The company performs ship and barge assist services, ocean towing, coastwise transportation, bunkering, and salvage. Headquartered in New York, the company is owned and managed by the McAllister family.
Mr. McAllister served as Chairman of the American Waterways Operators in 2013. He currently serves on boards for numerous maritime organizations, including Steamship Mutual P&I Club, the U.S. Coast Guard Foundation, Maritime Law Association, U.S.C.G. Area Maritime Security Committee for the Port of NY/NJ and the Seamen's Church Institute.