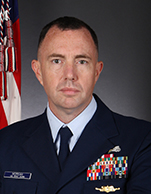 Tom Morkan
Captain
US Coast Guard
Captain Morkan reported aboard Sector New York in June 2015 as the Deputy Sector Commander, and leads more than 700 active duty personnel, 75 civilian employees, 300 reservists, and 2000 Auxiliary members with operational assets that include seven cutters, three small boat stations, and two aids to navigation teams. Overall, Sector New York is charged with ensuring the safety, security, and stewardship of the Port of New York, New Jersey and Albany.
Captain Morkan enlisted into the Coast Guard in 1991, was selected to attend Officer Candidate school in spring of 1993 and has held various positions including command at sea.
Captain Morkan is a native of Simsbury, Connecticut and holds a Bachelor of Arts in Business and Economics from Saint Anselm College, Manchester, New Hampshire and a Master of Science in Instructional Systems Design from Florida State University, Tallahassee, Florida.