Speaker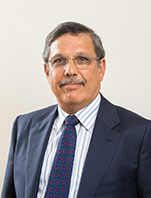 Arjun Batra
Group Managing Director
Drewry Shipping Consultants

Arjun is a multi-faceted maritime professional. He combines an entrepreneurial flair with astute strategy planning and deal making.

His current activities are:

Group Managing Director and major shareholder of Drewry Shipping Consultants. Drewry is a leading independent maritime advisor with offices in London, Singapore, Delhi and Shanghai.

Managing Director and shareholder of North South Maritime Pte Ltd., an asset manager focused on investments in the shipping industry. The company manages about 25 vessels and 10 new buildings in the pipeline.

Director of Anchor SM (Singapore) Pte. Ltd. The company is a joint venture between North South Maritime and Anchor of Japan. It manages the assets owned by Anchor investment funds.

He is a non-executive director of Maritime Content Limited and Digitalship Limited. Previously, he was a non-executive Director of listed dry-bulk operator Globus Maritime Limited (GLBS.L) and Henschien Insurance Services Limited in Norway.

In the 90's, he was a core member of the start-up team for Easyjet, Finance Director of Stelmar Tankers and Insurance Manager at Troodos Shipping. He started his working career as an officer in the Merchant Navy.

He is a Master Mariner from United Kingdom, a MSC in Shipping, Trade and Finance from Cass Business School, London. He is also a Fellow of the Chartered Institute of Shipbrokers and a Member of the Nautical Institute.