Speaker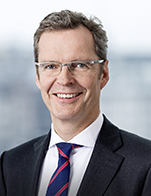 Christian Nieswandt
Global Head Shipping, Managing Director
HSH Nordbank Ag

He initially joined Landesbank Kiel's Shipping Department in 2002, where he was responsible for Scandinavian and domestic clients. After the merger of Landesbank Schleswig-Holstein, Kiel, and Hamburgische Landesbank, Hamburg, in 6/2003 to HSH Nordbank AG, Mr. Nieswandt turned to be Head of Nordic Area Clients. In 2009 he was appointed Head of International Clients.

Before becoming Global Head Shipping in 3/2015 he headed the Global Loan Syndicate of the bank for one year.

Mr. Nieswandt began his career with Deutsche Bank as a trainee, taking over in 1988 as head of a DB branch where he was responsible for corporate and individual clients. From 1992 to 1995 he was responsible for developing and implementing a business development strategy for special target groups. From 1995 onwards he was Senior Relationship Manager in Deutsche Bank Corporate Banking. From 1998 to 2002 he headed a corporate banking team with ABN AMRO being responsible for internationally operating corporate clients.