Speaker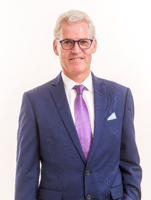 Jeremy Nixon
Global CEO
Ocean Network Express (ONE)

Jeremy Nixon is now the Global CEO of a new liner shipping company, Ocean Network Express (ONE), which is headquartered in Singapore, and will be commencing full operations from April 2018.

His career originally started at sea as a navigating officer, followed by a Bsc (Hons) in Maritime Commerce at Cardiff University (UK), and then four years at the Port of Felixstowe. In 1990 he completed an MBA at the University of Warwick (UK).

He has been actively engaged in the container shipping industry for the last thirty years, and has held senior management positions with P&O Nedlloyd, Maersk Line and NYK Line, in Europe, North America and Asia.

From April 2008 he joined the NYK Group as Managing Director of NYK Line Europe Ltd, based in London. Then in 2010 he transferred to Singapore to become COO of NYK Line's new Global Liner Management Division, based in Singapore. In 2012 he was promoted to CEO and went on to become a Corporate Officer of the NYK Group. In July 2017 he resigned from NYK to head up Ocean Network Express, which is a new joint venture company founded by the K Line, MOL and NYK Group companies.