Speaker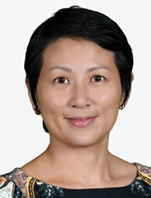 Teo Lay Seng (Lisa)
Executive Director
Pacific International Lines (Pte) Ltd ("PIL")

Ms. Teo Lay Seng (Lisa) first graduated with a Bachelor of Commerce from the University of Melbourne in 1997 and subsequently obtained a Master of Science in Marketing from the National University of Singapore in 2002.

She began her career with Pacific International Lines (Pte) Ltd ("PIL") since 1997 and is currently PIL's Executive Director (Corporate Development), Corporate Division. Her portfolio includes directorships in PIL, Maya Corporation Pte. Ltd. and their subsidiaries.

She serves as Vice President and Honorary Secretary of the Singapore Shipping Association and is also a board member of the Singapore Maritime Foundation. She was a Committee Member of the Singapore Chinese Chamber of Commerce & Industry's "Young Entrepreneurs Network" from March 2009 until March 2017.