Speaker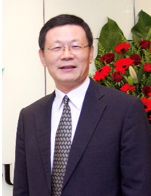 Yan Xiankai
Group CEO & Chairman
Bilsea Group

After Graduating from Shanghai Maritime University, China in the 80', with bachelor degree of economics and master degree of law, Mr Yan joined Sinochem and worked for 6 years involved in ship chartering, operation, marine insurance, ship management etc.

Starting from 1994, Mr Yan set up his own company Billion Gain Enterprise pte ltd, Singapore and covered ship broking, ship chartering, forwarding, ship bunkering and ship agency etc. After three decades of business development, Mr yan is currently group ceo and chairman for bilsea group (www.bilseagroup.com), with business of ship chartering, commodity trading, ship bunkering , hedging and asphalt tanker ship owning and investment.

In running his own business, Mr Yan further studied at Tsinghua University of China in 2005 and Harvard Business School of USA in 2008.

Mr Yan is currently the president of Shanghai Maritime University Alumni Club ( Singapore) and visiting professor of shanghai maritime university.

Mr Yan's most recent endeavour is Unimex.org which is a non-profit Organization, targeting to build up and cultivate Unimex maritime ecosystem.