Speaker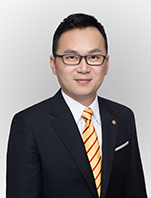 Wei Zhuang
Regional Manager of Asia
BIMCO

Wei Zhuang is the Regional Manager of Asia, BIMCO. Wei started his BIMCO career with the legal & contractual affairs department where he joined a wide range of BIMCO's standard contracts and clauses projects, including project development, revision and promotion. He was further promoted as China Liaison Officer as well as the General Manager of BIMCO Shanghai Centre. Now he is committed to keeping a constructive relationship with regional regulators and industry stakeholders and, most importantly, to provide portfolio services to BIMCO members and potential members in Asia.

Wei's previous positions include eight years as a maritime lawyer and Senior Fellow at Maritime University. He has a master's degree in maritime law and a PhD in international law.