Speakers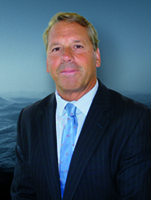 Hans Feringa
President & Chief Executive Officer
Team Tankers International Ltd.

Mr. Feringa was appointed Chief Executive Officer of Team Tankers International on September 1st, 2015. Mr. Feringa has extensive knowledge of the global shipping industry. In 1996, he joined Stolthaven Terminals and held various positions of increasing responsibility within the Stolt-Nielsen organization before his appointment in 2007 as President of Stolt Tankers, a division of Stolt-Nielsen Limited. As President of Stolt Tankers, Mr. Feringa headed the Company's strategic and growth initiatives. Prior to working for Stolt-Nielsen, Mr. Feringa was the Commercial Director of Van Ommeren's Tank Terminal at Botlek, Rotterdam. Mr Feringa holds a BSc in Oceanography and received an MBA from Rotterdam School of Management, Erasmus University in the Netherlands. During his career, Mr. Feringa has resided in The Netherlands Singapore and the United States. He is a Dutch citizen and resides in Connecticut, USA.