Speakers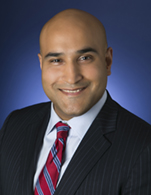 Amit Mehrotra
Director & Senior Research Analyst
Deutsche Bank

Amit Mehrotra is a Director and Senior Research Analyst at Deutsche Bank covering U.S. Transportation and Maritime Shipping. He is among the top five sell-side Shipping analysts in the U.S., as ranked in Institutional Investor's 2017 survey of U.S. asset management firms. He placed in the top ten in the same survey for U.S. Transportation companies.

His coverage responsibilities include all maritime shipping verticals, as well as U.S. trucking, logistics, airfreight, and railroads- with total combined market value of $500 billion. He has broad research and investment experience, having spent the last 15 years covering several verticals in the Industrial sector from both sell and buy-side perspectives- specifically within Automotive and Aerospace & Defense industries. He graduated with a degree in Finance and Economics from Babson College.