Speaker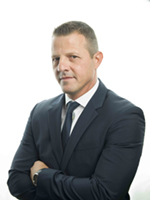 Demetris Chrysostomou
Group Director Marketing and Business Development
Columbia Shipmanagement

Mr. Chrysostomou commenced his shipping career in 1995 and holds a Bachelor of Commerce Degree, majoring in Marketing Management and graduating from the University of Pretoria, South Africa in 1990. Additionally Mr Chrysostomou holds a professional qualification of Chartered Shipbroker having completed his shipping studies through the London Institute of Chartered Shipbrokers and accepted as a Fellow to the Institute in 1998.

Mr. Chrysostomou, has been with Columbia Shipmanagement for the past 20 years during which time he has held numerous positions as Vessel Operator for cruise vessels, bulker carriers and tankers, Insurance and Claims Officer, Fleet Commercial Manager as well as Managing Director of Columbia's Singapore Office from 2007 to 2013, before returning back to Columbia's Cyprus office and taking up his current position as Group Director for Marketing and Business Development.