Speaker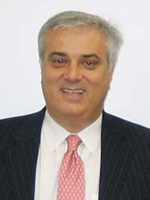 Marco Fiori
Chief Executive Officer
Premuda SpA

Marco Fiori is the CEO of Premuda SpA. He was CEO of d'Amico International Shipping S.A. Prior to joining the d'Amico Group, Mr. Fiori was employed in the New York branch of Banca Nazionale dell'Agricoltura. He was initially responsible for the loan portfolio and business development of Fortune 100 companies based on the U.S. West Coast and later, for overseeing and managing the entire U.S. business development market.

From 1990 to 1994, he held the position of head of credit and in 1994 was promoted to the position of senior vice-president and deputy general manager of the New York branch with direct responsibilities for business development, treasury and trading. Mr. Fiori obtained a Bachelor of Science in Economics and Finance from Rome University in 1979 and an MBA from American University in Washington D.C. in 1984. He lives in Monte Carlo, Monaco.