Speaker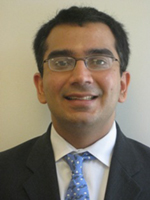 Vikram Hiranandani
Director of Corporate Finance
Scorpio Bulkers and Scorpio Tankers

Vikram Hiranandani ("Vik") serves as Director of Corporate Finance since August 2014 for Scorpio Bulkers and Scorpio Tankers, where he is responsible for their debt financing needs and developing/maintaining its banking, ECA and leasing relationships. Prior to Scorpio, Vikram worked at BNP Paribas in New York for 6 years (of which he spent 2 years with their Merchant Banking team as Vice President and 4 years with their Ship Finance team as Associate followed by Vice President). Prior to BNP Paribas, Vik spent 15 months in an Associate rotational program with Fortis Bank in New York, where he gained valuable experience in Ship Finance, Corporate Finance, Loan Syndications, Fixed Income, Merchant Banking and Credit Risk Management. Before his banking days, Vik worked at American Commercial Lines, a marine transportation and shipbuilding company in Indiana, for 3 years where his role grew from a Treasury Analyst to a Senior Financial Analyst. Vik graduated from Indiana University with a BS degree (Distinction Honors) in Finance, Accounting and International Business, and a dual minor in Economics and Mathematics.