Speaker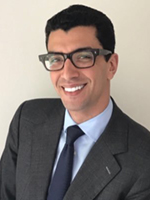 Ali Ben Lmadani
Chief Executive Officer
ABL Aviation

Ali Ben Lmadani is currently CEO of ABL Corporation headquartered in Dublin, with offices in Casablanca, Hong Kong, Dubai and New York City. Innovative, global and efficient, ABL Corporation is a fast-growing company setting trends across the industry through its creative approach in the aircraft investment model. Ali is a strong market leader and forward thinker in the aviation industry, developing a successful strategic vision of alternative investment models that consistently achieve key milestones.

Dedicated and committed to the future of the aircraft leasing industry, Ali is at the forefront of market trends and developments, allowing his company, ABL Corporation, to successfully negotiate and secure substantial investments to continuously grow and prosper.

In recent years, he has structured a number of aircraft transactions for private equity investors and family offices, developing financial models, sourcing financial debt and providing, along with his experienced team, in-depth technical support. ABL Aviation seeks to develop unique investment strategies that fall outside the status quo that governs the industry.

At his previous role at the New York boutique investment firm, The Transportation Group, Ali was responsible for developing opportunities and structuring deals with several airlines including Emirates and Singapore Airlines. He offers extensive knowledge on equity and debt players, especially in the Middle Eastern and Asian markets.

A serial entrepreneur, Ali founded his first business at 22 years old, a ground support equipment business called ABL Industries where he exported ground support equipment from the US into Africa. Soon after, he co-founded ABL Real Estate in Paris which specializes in the sale and rental markets in Paris. Inspired by the innovative Airbnb market, Ali then created 'EasyGuests Inc.', a short-term rental property management company which operates in 5 cities across the US and Europe.

Originally from Morocco, Ali attended Campbell University in North Carolina and holds both Moroccan and US citizenship. Ali is a Finra registered representative and holds a series 7 investment banking qualification. Ali is a founding partner of the innovative ISHKA media conferences and regularly contributes editorial content to articles as well as moderating and debating panels at aviation finance conferences around the world.