Speaker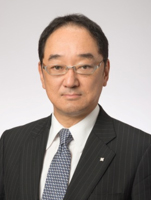 Koichi Onaka
Global Head of Financial Institution Group
Global Head of Ship Finance
Sumitomo Mitsui Trust Bank

Koichi Onaka is a Managing Executive Officer of Sumitomo Mitsui Trust Bank, Limited a member of the Executive committee. He is the Global head of Financial Institution Group as well as Global Head of ship Finance since April 2014. He was in charge of Investor Relations since July 2016 to 2018. He was the executive officer and the General Manager of Corporate Finance of Tokyo in 2010 to 2014. Prior to that position he experienced the General Manager of London Branch since June 2006 to April 2009. Koichi graduated from Kobe University in Kobe with a major in Business Administration. He grew up in Nara city which is the most ancient capital of Japan.