Speaker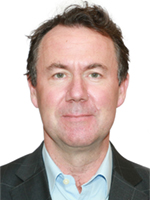 Sverre Bjørn Svenning
Director, Global head of research
Fearnleys AS

Sverre B. Svenning holds a M.Sc. in Naval Architecture and Marine Engineering from the Norwegian Institute of Technology, graduating in 1989, specializing in conceptual design, market analysis, and logistics.

Thereafter Sverre B. Svenning took up position as broker-assistant, later as broker, with RS Platou Shipbrokers A/S. Focusing on deep-sea transportation of forest products and with emphasis on industrial carriers within the open-hatch box-shaped bulker segment. After serving the company for 4 ½ years Sverre B Svenning took up the position of Project Manager with Barber Marine Consultants, working on the development of the 4th generation deep-sea RoRo carriers for Wilh. Wilhelmsen ASA.

In January 1997 Sverre B Svenning was employed by Fearnleys AS, being responsible for market analysis and project development with emphasis on commodity markets and international seaborne trade.

Mr. Svenning is a member of the DnV Council.