Speaker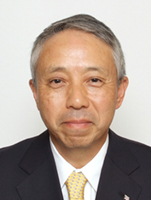 Yasuo Tanaka
Senior fellow of MTI (NYK Group)
And Technical Adviser of NYK

Yasuo Tanaka joined NYK in1979, after graduated from Engineering School of the University of Tokyo. In NYK Technical Group, he had been in charge of both new design and maintenance/repair projects for NYK fleet. He experienced variety of ship designs from small size chemical tankers and twin-deckers to large size LNG tankers, oil tankers, bulkers, container ships, ro/ro ships and passenger cruise ships. He also experienced major conversions of offshore floating oil production and large scale conversions of cargo ships.

After oversea positions in Australia and Finland, he was appointed to the president of NYK Engineering in 2003, He became General Manager of NYK Technical Group in 2008, NYK Corporate Officer in 2009, NYK Managing Corporate Officer in 2012, NYK Senior Managing Corporate Officer in 2015.

In 2016, he became President of MTI (Monohakobi Technology Institute) and after April 2019, he has been Senior Fellow of MTI and Technical Advisor of NYK.

MTI is R&D wing of NYK Group, which develops GHG mitigation equipment for ships and provides wide range of digital solutions for NYK Group companies.