Speakers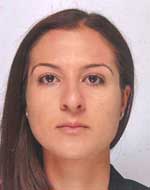 Clea Evagorou
Director and Head of the Strategy Risk Advisory Services
Deloitte Cyprus

Clea is a Director and head of the Strategy Risk advisory services at Deloitte Cyprus, focusing on Financial Institutions. She holds a degree in Economics and Social Studies from the University of Manchester.

She is a Fellow Chartered Accountant a Chartered Tax Advisor and Member of the UK's Institute of Consulting. Clea has been with Deloitte since March 2016, previously working for global financial institutions in London.

She is a banking specialist, with over a decade of experience both in Cyprus and abroad. During her tenure in London, she worked at PricewaterhouseCoopers and Barclays Bank, specializing in Structured Finance, corporate restructuring and Treasury strategy.

She has written a number of articles on Brexit that have been published in global publications such as FS Focus of the Institute of Chartered Accountants in England and Wales. More notably, she was invited as a Key Note speaker at the U.S Federal Reserve's International Banks Conference in Washington, to present on the matter of Brexit and the impact on the Financial Institutions.