Speakers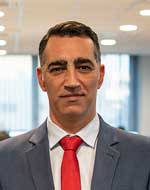 Yannis Pastellas
Global Business Development Manager
Safebridge

Yannis is the Global Business Development Manager of Safebridge which provides a full stack of competence management for Seafarers worldwide through Safebridge online platforms.

Yannis has broad experience in strategic planning and business development in a variety of industries. He has also been involved in bridge navigation equipment and satellite communication products and services as well as SaaS product-market strategies. Prior to joining Safebridge, Yannis spent 5 years with the Fameline Group of companies and previously worked in the IT, Industrial automation & digitalization, engineering, and in the Insurance industry. Yanni's diverse industry background helps him identifying synergies between companies and products.

He is a member of manning and training committee in Cyprus Shipping Chamber and a member of Intertanko's HEiSC committee. He also served as a board member in YoungShip Cyprus which helps the young generation get familiarized with the shipping industry sectors.

Yannis also took part in the e-navigation working group presenting blockchain and digitalization solutions in Seoul and recently presented in IMO NCSR 7 sub-committee the challenges of paper certificates and how digitalization can help the industry reduce operational costs, automate processes and eliminate fraud.

Yannis received his Executive MBA in Shipping and Logistics from Copenhagen Business School in 2019.