Speakers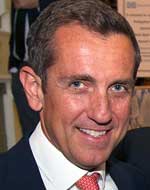 Nicos Rescos
Chief Operating Officer, Starbulk
Chief Operating Officer & Commercial Director, Oceanbulk Maritime S.A.

Mr. Rescos has served as the Chief Operating Officer of Starbulk since July 2014 and the Chief Operating Officer and Commercial Director of Oceanbulk Maritime S.A. since April 2010. Mr. Rescos has been involved in the shipping industry since 1993 and has gained strong expertise in the dry bulk, container and product tanker markets having been responsible for more than 200 vessel acquisitions and dispositions and several joint ventures in the drybulk and tanker sectors. From 2007 to 2010 Mr. Rescos worked with a family fund in Greece investing in dry bulk vessels and product tankers. From 2000 to 2007, Mr. Rescos served as the Commercial Manager of Goldenport Holdings Inc. where he was responsible for the acquisition of 35 dry bulk and container vessels and initiated the company's entry in the product tanker market through a pioneering joint venture with a major commodity trading company. He received a BSc in Management Sciences from The University of Manchester Institute of Science and Technology (UMIST) and an MSc in Shipping Trade and Finance from the City University Business School.