Speakers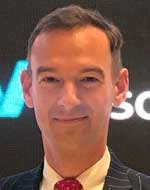 Passchier Veefkind
Head of the Athens Representative Office
DNB

Passchier Veefkind is Head of the Athens Representative Office for DNB, Norway's largest financial institution and the one of the world's leading maritime financing franchises with lead roles in ECA loans and the syndicated bank market, high yield, equity capital markets and advisory. In this capacity he oversees DNB's Greek shipping client coverage for blue chip names.

Prior to moving to Greece in April 2019, Mr. Veefkind acted as a Senior Vice President and Senior Advisor for DNB's key maritime relationships in North America such as the Teekay Group, Seaspan Corporation, and Scorpio and with a special focus on event driven and strategic situations including acquisitions, project financings and capital structuring.

Before joining DNB, Mr. Veefkind spent 10+ years of his career in New York City in both corporate and investment banking covering the energy, power & renewables, offshore, infrastructure, and maritime sectors through roles at ABN AMRO, BNP Paribas Investment Banking, and Fortis Merchant Banking.