Speakers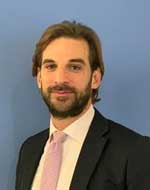 Christos Xygkakis
Manager - Shipping Unit
AstroBank

Christos Xygkakis joined AstroBank in August 2018. He set up the bank's Shipping Unit, of which he is the Manager. Before joining AstroBank he was Associate Director of the Global Transportation & Logistics team of ABN AMRO Bank in Athens. Prior to that, he worked for 7 years at DVB Bank SE (Athens). He started his professional career in 2008 at Piraeus Bank as a Credit Analyst in the Shipping Centre.

He holds an MSc in Shipping, Trade & Finance from Cass Business School, City University of London and an MSc in Maritime Business & Management from Liverpool John Moores University.