Speaker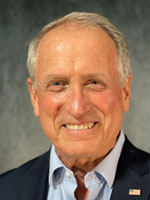 Steven Hughes
President & CEO
HCS International; Motor & Equipment

Steven Hughes has over 47 years of Supply Chain experience in the automotive aftermarket industry. During that time, he worked or consulted for some of the industry's leading companies. Mr. Hughes is a consultant for both the automotive aftermarket, through its trade associations and to individual companies under the aegis of his company HCS International. In addition, HCS International is the representative for Gemini Shippers Association to the Automotive Industry.

Over the years, Mr. Hughes has been deeply committed to the international automotive aftermarket community in their efforts to promote free and fair trade. He is currently Chairman of the Import Vehicle Community and sits on the Government Affairs Committee for the Auto Care Association. He is Chairman of the Public Affairs Committee for CAWA. And, he is the lead voice for the automotive aftermarket industry regarding ocean transportation issues.
Mr. Hughes served on the Automotive Industry Trade Advisory Committee (ITAC 2) advising on trade policy for the Department of Commerce and US Trade Representative, 2015-2017. He has led three industry coalitions at the International Trade Commission, to overturn unfair Anti-Dumping Duty orders that were harming the industry and costing consumers. He is also a past participant of the Federal Maritime Commission Supply Chain Innovations Team.

Mr. Hughes was recently appointed to the Federal Maritime Commissions' National Shipper Advisory Committee, representing the Auto Care Association and Motor Equipment Manufacturers Association.