Speaker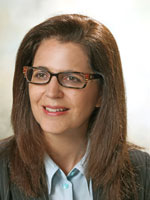 Maria Toumazi
Advocate – Partner
Shipping, Finance - Corporate & Commercial
Montanios & Montanios LLC

Maria Toumazi was born in Famagusta, Cyprus. She read law at The London School of Economics and Political Science and was awarded an LLB Honours Degree in 1982. She then qualified as a Solicitor of the Supreme Court of England and Wales and her name was entered on the Roll of Solicitors on 01/11/1985.

Maria practised as a solicitor in London for five years before joining the Firm in 1990. She was admitted to the Cyprus Bar in 1992 and became a partner of the Firm in 2000.

Her main areas of practice are shipping, banking & finance and corporate & commercial law.

She has a great deal of experience in international shipping and corporate financing and has handled many bilateral and syndicated financing transactions, including bond loans, acting on behalf of international financing banks, financial institutions, and shipowners. She has been involved in the financing of both second hand and newbuilding vessels, loan restructurings and transfers of shipping portfolios.

Maria also has considerable experience in corporate law and provides advice to shipowners and other corporate clients of the Firm on general corporate and commercial matters, such as joint ventures, sale and purchase agreements and corporate restructurings.

She is a member of the Companies, Tax Planning and Stock Exchange Committee of the Cyprus Bar Association and, together with her partner Elvina Montanios, has contributed the Cyprus chapter on "The Ship Mortgage" in the Shipping Finance Practical Handbook published by Globe Law & Business.