Speaker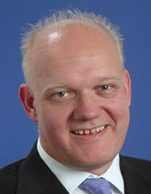 Michael Borch
Managing Director, Co-Head of Global Transportation
Citi

Michael Borch is the Co-Head of Citi's Global Transportation Banking practice based in London. In this role Michael leads Citi's effort with Transportation and infrastructure companies across Europe, Asia and the Americans.

Prior to relocating to London Michael held the position of Chief Operating Officer, corporate and Investment Banking Asia Pacific excluding Japan. In this role Michael was responsible for the day to day management of Citi's corporate & Investment Banking business in Asia, based in Hong Kong.

During the last 18 months, Mr Borch has advised on the sale of Euroports to Monaco Resources, the sale of a 50% stake in Impala, a logistics company owned by Trafigura. The sale of Unifeeder to DPW, the sale of a 10% stake in Terminal Investments Limited to GIC and the formation of an investor consortium for the acquisition of the airport of Mumbai led by Adia on behalf of GVK.

Mr. Borch has spent the last 20 years living between London and Hong Kong. During this time, Asia and Transportation have been his principle focus areas. In addition to his Asian focus, Mr. Borch is a 30 year veteran as a Transportation investment banker. A native of Denmark, Mr. Borch is a graduate in Politics and Philosophy from the University of Warwick, Coventry, England (1986), and has a Masters degree in International Relations from the Johns Hopkins University, Baltimore, Maryland, US (1988). Mr Borch is Married with four adult children.

Mr. Borch has advised on more than $100 billion of transactions over the last ten years in the Transportation and Infrastructure sector. Mr. Borch is currently advising on a number of large transactions across the Industrials vertical.