Speaker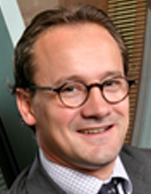 Joep Gorgels
Global Head Transportation and Logistics
Corporate & Institutional Banking
ABN AMRO Bank NV

Since June 2017 Joep has the global responsibility for the banks large clients in the sectors shipping, intermodal & aviation and logistics. The coverage team acts from six offices world wide covering many clients and a sizeable portfolio. Previous to that Joep was responsibility for ABN AMRO's Norwegian branch office in Oslo for five years. He also had the responsibility for the Offshore, Oil & Gas Services and Shipping clients in Scandinavia.

In 2003 Joep joined the shipping desk of Fortis in Rotterdam and has worked there in various roles.

Joep joined Fortis in 2000 as started working in the Telecoms and Media finance group after various job rotations within the bank.

Before that he worked for three years as a process engineer within Fluor (Daniel) in The Netherlands and the UK.

Joep is a graduate from the Technical University of Delft in Chemical Engineering and completed the General Management Program at IMD in Lausanne, Switzerland in 2007, 2008 and 2012.