Speaker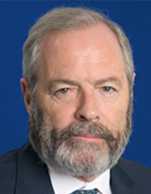 Michael Parker
Chairman - Global shipping
Citibank N.A.

Michael Parker joined Citibank N.A. in London in September 1977. Michael Parker was recently appointed Chairman of Citi's Global Shipping, Logistics and Offshore business having been Global Industry Head since 1997 until now. Vice Chairman of Corporate & Investment Banking (EMEA) and Chairman Corporate Banking EMEA.

During his 34 years involvement with shipping finance Mr. Parker has been a regular conference chairman, speaker or panellist. Under his leadership Citi receives recognised industry awards across the different areas of shipping finance and he was named Marine Money's Dealmaker of the Year in 2012. In March 2015 in New York : Capital Link Leadership Award "in recognition of Michael Parker's unique and extensive contribution to the shipping industry". Mr. Parker chaired the London Committee of Intercargo for a number of years and is involved in UK maritime matters as they pertain to finance and served on the Expert Panel advising the UK Department for Transport on the UK 2050 Maritime Strategy. In 2015 and 2017 he served on the Advisory Board of London International Shipping Week and served on the Advisory Board for LISW 2019. In 2017 he was appointed to the Board of The Global Maritime Forum. Chairman of the Steering Committee of the Poseidon Principles launched in New York June 2019.