Speaker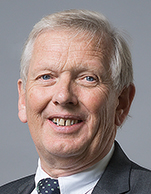 Per Erik Dalen
CEO
Blue Maritime Cluster - Global Centre of Expertise (GCE)

Mr. Per Erik Dalen is educated in the fields of aviation, economics and administration. He has professional experience at executive level from various large companies from the aviation, maritime, marine, and building industries, and as a Board member at several companies. At present, Per Erik Dalen is heading the regional innovation company ÅKP (Ålesund Knowledge Park) which works in the fields of innovation, entrepreneurship and business development. As part of his work at ÅKP, he is the CEO of Blue Maritime Cluster - Global Centre of Expertise (GCE).

Global Centre of Expertise Program is part of a broad national initiative for the optimal development of Norway's strongest industrial clusters. The prestigious status as "GCE" for the maritime sector was awarded by the Norwegian Government to the region of Møre, which is home of Norway's largest and most complete maritime cluster. The cluster consists of over 220 companies, and covers all the segments of the value chain, resulting in a winning mix of competition, cooperation, and innovation. The cluster organization GCE Blue Maritime contributes to the companies' development by introducing new knowledge in the form of analyses, projects, and research, developing the regional research and education capacity, participating in national and international competence networks, and strengthening the cluster's reputation among members of the community, nationally, and internationally.