Speaker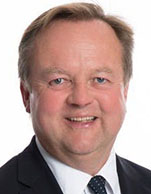 Jan William Denstad
Partner
Sole Shipping SO Adviser Limited

During his experience of over 24 years in the shipping sector, Mr. Denstad has gained significant experience in ship financing with a large dedicated European shipping bank across a wide geography as well as structuring and managing a portfolio of sale and lease back transactions.

He worked for Nedship Bank, Bergen, Norway, for a couple of years before he was asked to move to Piraeus, Greece in 1995. During this period, he was Senior Account Manager and was responsible for developing his own loan portfolio in Greece. He also contributed to a team involved in work out loans. He subsequently moved to London with Nedship Bank where his responsibilities included developing the loan portfolio, corporate and structured finance services. In 2000, Nedship bank was acquired by DVB Bank and Mr. Denstad became Head of Shipping as well as Joint Deputy General Partner of the London Branch of DVB Bank AG. In 2002 he became responsible for the European market for Navigation Finance Corporation, a shipping equity fund specialising in purchase and lease back transactions. During this period several transactions were closed in which Mr. Denstad was responsible for sourcing, negotiating and preparing Board memos, term sheets, negotiating purchase contracts and charterparties, raising debt, establishing owning companies and taking delivery of the vessels.

Mr. Denstad holds an MSc in Economics and Business Management from the University of Copenhagen.

He has been a Partner of Sole Shipping Group since 2004.