Speaker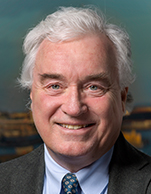 Axel C. Eitzen
CEO
Christiania Shipping A/S

Axel C. Eitzen is currently CEO of Christiania Shipping A/S. Axel is the fourth Generation shipowner in Camillo Eitzen & Co, founded in 1883.

He was the majority owner, CEO and Chairman in the Eitzen Group companies; Eitzen Chemical ASA, Eitzen Bulk A/S, Eitzen Gas A/S and Eitzen Maritime Services ASA. Axel has served as Chairman of Assuranceforeningen GARD, and board member in Det norske Veritas (DnV GL) and the Norwegian Shipowners Association.

He holds a master's degree in Mechanical Engineering from ETH Zurich, and a degree in economics. Axel Eitzen is a Norwegian citizen and is presently residing in Copenhagen.