Speaker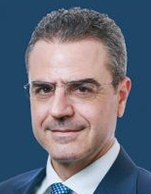 Achilleas Tasioulas
Chief Financial Officer
GasLog Ltd.

He joined GasLog in October 2014 as Financial Controller and his role was expanded to Chief Risk Officer, Financial Controller and Head of Tax in August 2017 and Deputy CFO of GasLog in December 2019 and has over 13 years of experience in the shipping industry. During his years with GasLog he has been actively engaged in our growth strategy, capital markets activity and has developed considerable experience in operations, corporate finance, treasury and risk management. Achilleas is also a Board Member of Gastrade and a Director of several Group subsidiaries.

Immediately prior to joining GasLog, Achilleas was Corporate Controller for NYSE-listed Danaos Corporation for 6 years. He is an ICAEW Fellow Chartered Accountant, has an MSc in Project Analysis, Finance and Investments from the University of York and a BSc in Economics from the University of Macedonia in Greece. Furthermore, he has completed executive education programs in Advance Corporate Finance in London Business School and Strategic Financial Leadership in Stanford University Graduate School of Business.