Speaker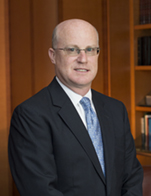 Curtis Holloway
Senior Vice President, Head of Fund Administration;
CFO and Treasurer
Calamos Investments

As Senior Vice President, Head of Fund Administration, Curtis Holloway, CPA, is responsible for oversight of the day to day operations of fund accounting, fund administration, financial reporting, pricing, and controls, as well as accounting policy. As CFO and Treasurer of the Calamos Funds, he is responsible for the funds' compliance with corporate and regulatory policies, issuance of shareholder reports and related regulatory filings, dividend payments, and reporting to the funds' board of directors.

Curtis has nearly 26 years of investment accounting and reporting experience. Prior to working for Calamos Investments, he has served in various positions with three Fortune 500 firms in their investment departments. He received his BS in Accounting and his BS in Finance from Southern Illinois University and his MBA with specializations in Derivatives and Economics from Loyola University. He is a Certified Public Accountant and has obtained Series 27 and 63 securities licenses, as well as ChFC and CLU certifications.

Curtis has participated in various ICI and NICSA panels as a speaker and is currently a member on the ICI's Treasurer's Committee, ICI Operations Committee, and the NICSA Midwest Committee.